The 2023 NFL Draft is finally upon us. As many of you know, this is Christmas in April for me. I fucking love the NFL Draft and I've spent months connecting dots and reports trying to decipher what is going to happen so we can generate leverage through betting odds. The only thing better than the NFL Draft is leaving Draft night with more units in your account than what you entered with. Now let's dig into what is set in stone, what is likely to happen, and what possibly could happen and what the fall out from all of it would be. 
1st overall
Bryce Young. I'll keep this one short and sweet. The Carolina Panthers moved up to 1 and they are taking Bryce Young. He is now as high as -2000 on some books.
What happens after this?
The 2nd overall pick is down to, what I believe to be, two players between Tyree Wilson and Will Anderson. There is an outside chance that a QB falls into this spot, such as CJ Stroud or Anthony Richardson, but I don't think that is likely anymore. There is also a slim chance the Texans trade back from this pick. However, I don't think it is likely either. The best trade partner is the Indianapolis Colts and I doubt that the trade compensation will come close to what the Texans want. Moving back beyond that, they'll risk losing one of the two edge rushers I mentioned so the Texans would just be happy to select their new Edge Rusher and move on with life. There is a better chance the Texans are in talk with the Cardinals to move up to three from 12 than there is the Texans moving back from two. 
Depending what the Texans do at two changes the entire trajectory of the rest of the draft. Let's run through some scenarios of the two paths I think this draft can go depending on what the Texans do at 2. 
Will Anderson
This is where I think the draft will end up heading. From what I've gathered, what it really comes down to is that the Texans view Anderson and Wilson almost evenly. When you match it up like that, Anderson is the no brainer. Wilson is struggling with some medicals and even if you think he is fine, why risk it? Take the near sure thing and move on. This is DeMeco Ryans first draft, no need to blow the doors off the place. Once Anderson goes 2nd, things get CRAZY. The Arizona Cardinals will have plenty of demand for teams moving up to the three spot. This isn't just for QB CJ Stroud either. They're a basket of teams that are looking to trade up and draft Offensive Lineman, Paris Johnson. These teams include the Philadelphia Eagles possibly jumping all the way from 10 to get to 3. This also includes the Cardinals standing pat at 3 and taking Paris Johnson themselves. Outside of the OL talk, Stroud still exists and you have buyers such as the Colts, Lions, Raiders, Falcons, Titans and even the Texans like I mentioned. The Cardinals are almost guaranteed to move back, with Stroud or Johnson going 3. Once that happens, the draft takes two paths. If Stroud goes, I think we see Anthony Richardson go fourth overall to the Colts. This could be Will Levis, and a lot of national guys are torn, even more so leaning Levis here. However, I just don't think the Colts pass up on the talent and what Richardson can bring to the table. If Johnson goes third overall, we will see Stroud likely picked here. I'm not believing that the Colts would take Levis over Richardson, let alone Stroud. After this, I am a little hesitant to say what path the Seahawks go. If Paris Johnson is on the board, I wouldn't be shocked if they are open to moving back with the Eagles. If Johnson is not on the board, they could go Anthony Richardson. They could also take Jalen Carter, or even move back with a team like the Eagles for Jalen Carter. They could take Tyree Wilson. It really goes up in the air from this point. I think at this point, is where we start to mesh the paths of what happens if Anderson or Wilson go second. So let's touch on the Wilson path and then I'll pick it back up after that.
Tyree Wilson
If they take Tyree Wilson, the same scenario opens up as before but this time the teams trading up would likely be for Will Anderson and Stroud rather than Paris Johnson. The scenario at four is the same as above depending on who gets picked third. If Stroud goes third and either Richardson or Levis fourth, we will see the Seahawks then run to the podium to draft Will Anderson. If Anderson goes third, we will have the scenario play out with Stroud going fourth and the Seahawks contemplating what to do with their pick at 5, possibly going with Carter, taking Richardson as I mentioned above, or even moving back.
After this, I think we start to see lines blend. The Lions really want Devon Witherspoon and the betting odds reflect that. At seven, if the Raiders don't move up for Stroud, they could be in line for a player like Paris Johnson, Christian Gonzalez, or Peter Skoronski. At eight, the Falcons have been heavily linked to Bijan Robinson. They also like edge rusher, Nolan Smith. I wouldn't rule out CB either even though they just traded for Jeff Okudah from the Lions. At nine, the Bears are almost certainly going offensive line here. If Paris Johnson is there, I think that's their pick. If he's not, Broderick Jones would be in play. I don't think the Bears like Peter Skoronski or Darnell Wright. If the Eagles stand pat at 10, they'll be interested in Jalen Carter most of all. If he is gone and they are unable to secure him, I think the offensive line would be in play but outside of Paris Johnson, I'm not sure who they like the most. They are likely to also look at edge rushers Nolan Smith or Lukas Van Ness. Bijan Robinson is possible here but I'm not holding my breath. 
Long shot
I made it known back in February I think this could happen and I haven't changed my tune. Since then, a lot of bread crumbs have hinted that I am on to something with the Tennessee Titans taking Texas RB, Bijan Robinson, with their 1st round selection. We started with Bijan being +7500 odds and up until even Saturday morning, it was +5000 for the Tennessee Titans to select a RB with their 1st selection of the draft. It now sits at +1300 and here is why I think we have a real chance to take home this bet.
The Titans love running the ball.

The foundation of their organization is to play defense and run the ball. They've had a ton of success since Mike Vrabel took over with this philosophy. It is a bit of an aged strategy but they are zigging when the rest of the NFL is zagging. It makes a lot of sense, but that is a longer conversation for the rest of the off-season. What better way to continue this for the next 5-7 years than to take one of the best RB prospects in NFL history? Trade Henry, reset the RB clock and just run Bijan as far as he takes you. Note: Bijan is better than Henry.

The Tennessee Titans aren't rebuilding.

They have trimmed a lot of fat this off season but a lot of that is middling talent and it shouldn't cost them a lot of on the field production. They only have five picks in this year's draft and they seem pretty content with QB Ryan Tannehill. They're rumors that the Titans are shopping Tannehill and are being aggressive to move up for a rookie QB but I'm not buying it. In March, Mike Vrabel stated that him, new GM Ran Carthon, and Ryan Tannehill sat down and came to an understanding of where the franchise was headed. Tannehill was vocal about being excited for the upcoming season and felt relieved after the meeting. Doesn't sound like a guy who thinks his replacement is about to be drafted with a top 15 pick.

The Titans aren't swinging for the fences with high risk, high reward draft picks.

Almost all of the draft analysts have come to a similar conclusion with how the Titans are going to approach this draft, security and flat out good ball players. Over the last five years since Vrabel has been in Tennessee, the Titans have drafted one 1st round talent who has received a second contract and two players who aren't on NFL teams and a bust up until this point in Caleb Farley. They have taken swing after swing on high upside talent and it has bit them in the ass so far. Also, this will be the Titans new GM's first NFL Draft. Typically first time GM's go one of two routes. They will swing for the fences and make a name for themselves or go safe, just trying to find a solid 6-8 year starter. The feeling around the league is that the Titans go with a high floor guy. Enter Bijan Robinson.

This Draft sucks for talent.

Pair last the last point with the fact almost every GM has stated at their pre draft pressers they think this is a bad draft for top end talent. In a typical draft, NFL teams will have roughly 20-25 prospects with "1st round" grades. This year, the number is said to be closer to 15 and is viewed as one of the worst drafts in recent memory. This further plays into the fact that a player such as Bijan, a top 3 talent on almost everyone's rankings, will climb up the board.

Trading back?

There is a very, very real world where the Titans move back from pick 11. And when I say move back, I don't mean 20+, I think the furthest back they would go is pick 19 with the Tampa Bay Buccaneers but preferably back to 14 with the New England Patriots. If the Texans do take an edge rusher at 2, they could be in the marker for a QB at 12. The Patriots brought Levis in for a workout and he very well could be there at 11. The Patriots could shuttle disgruntled QB, Mac Jones with pick 14 to the Titans to leap the Texans and take Will Levis at 11. Also, around pick 9ish range through pick 17ish, we will see a run of offensive lineman. Upwards to possible four to five lineman could go in this range. This would mean the Bucs, whose biggest need is OL, could want to jump up with the Titans and have their pick of the group. Nothing is linked towards this, just me galaxy braining over here. But it's definitely possible and if the Titans move back to 19, Bijan is an absolute SLAM DUNK if he is still on the board, which is very possible. 

Trading Derrick Henry.

The last crumb to this path involves the trade rumors around Derrick Henry. If everyone recalls, when NFL Free Agency began, there were a ton of rumors that the Titans were shopping Henry. This was quickly thwarted and it turned into the Titans were just "fielding" calls on Henry. Yeah, okay. This was followed up by a brief report from Peter King in the beginning of April that the Cowboys may pursue Derrick Henry during the draft. Why would they do that? Oh, because the Titans just drafted their future RB star and now Henry can be had for a Day 3 pick. Lastly, this past weekend, Akbar Bgajabiamila reported that a deal was in place for Henry to be dealt to the Eagles. This was again thwarted by unreliable sources (Mike Florio and Jay Glazer). The reason it was thwarted? The Titans hadn't drafted Bijan Robinson yet. Another note to further drive home that Akbar wasn't lying is that Henry and Akbar share the same agency. Akbar is respected amongst NFL circles and didn't just make this rumor up out of thin air. He continued to double down and say "Just remember who told you first". 
After all of that, I still don't think it is a shoe in that the Titans draft Bijan Robinson. There have been consistent rumors about the Titans wanting one of the top five QBs in this draft. Also, as of today, the betting odds suggest the Titans want an offensive lineman with their first pick. But, these teams have consistent conversations over the months leading up to the draft. For the Titans to communicate with other teams about what Henry's value is (I think early Day 3 so 4th roundish) common when multiple pieces are moving. This allows them to know they have a trade for Henry in their back pocket for the scenario to play out where Bijan ends up a Tennessee Titan. After all, this is the NFL Draft. Expect the unexpected!!
The Mock
After all of those scenarios and paths the top 10 can go, I have to choose a path. As you can tell, this isn't as easy as picking a player a team likes and putting them on that team. Dominos fall and once one pick goes sideways, it changes the trajectory of the entire draft. Below is where I believe to be, in my opinion, the likeliest paths of the draft.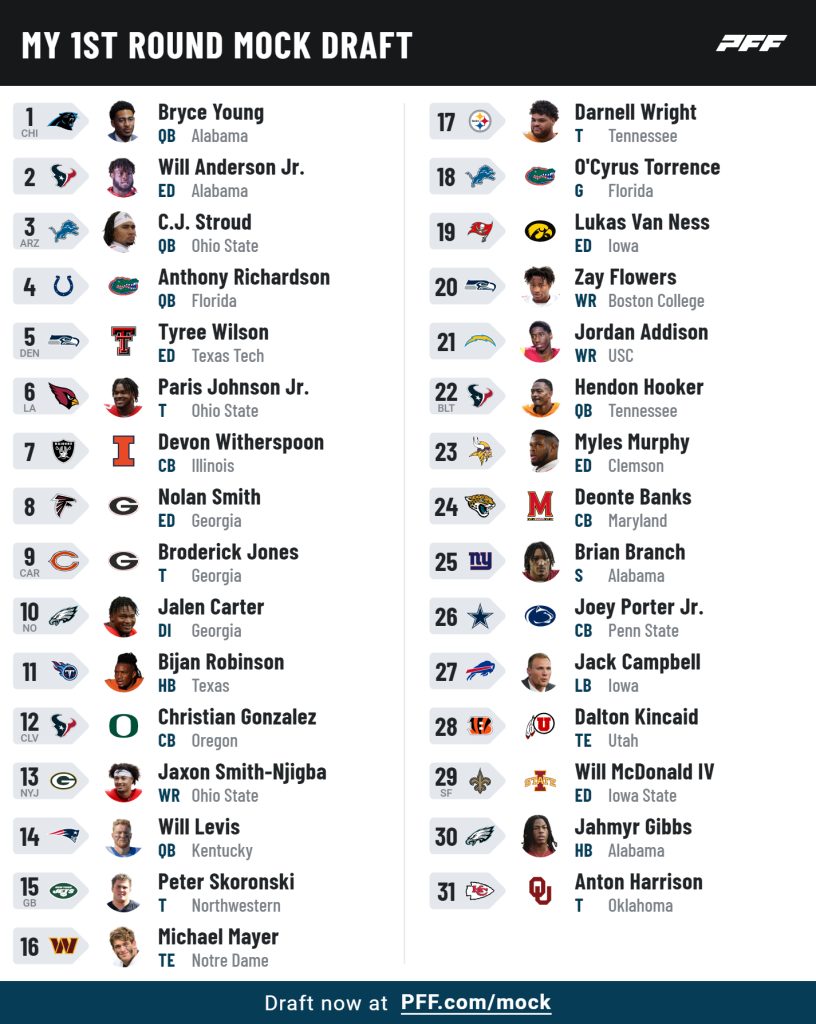 Bets
So I've been dropping bets since December if we include chat suggestions to bet Bryce Young at +150 around Christmas time. I understand that you may not have been placing these bets and some of the bets below do not still have the same odds. With that said, those bets may not be appealing to me anymore given some are now a fraction of what they were when I played them. Also, some of the bet's that I have placed are already pretty much dead but some are locked in at great odds. Below, I'll have that list along with bets that I currently like and act as if this list of bets is in a separate bucket from the ones I've been placing. This is for those who haven't been playing but want some action tonight specifically so I'm viewing it from a different lens than I was when I played the bets I've been placing over the last month or so. As always, ask me in chat if you need any clarity on a bet or why I feel the way I feel about how the draft falls.
Minnesota Vikings 1st selection a RB (+3400) Fanduel: .25u
New York Giants 1st selection a RB (+4000) Fanduel: .25u
Will Anderson under pick 3.5 (-125) DraftKings: 2u
Bijan Robinson over pick 10.5 (+125) DraftKings: 2u
Tyree Wilson over pick 4.5 (+100) DraftKings: 2u