USFL Week 3 Notes
Active/Inactive
Active
QB Cole Kelley (Memphis Showboats)
WR Derrick Dillon (Memphis Showboats)
RB Juwan Washington (Memphis Showboats)
RB Mark Thompson (Houston Gamblers)
WR Tre Walker (Pittsburgh Maulers)
WR Chris Rowland (Philadelphia Stars)
RB Trey Williams (New Jersey Generals)
Inactive
QB Kyle Sloter (Birmingham Stallions)
RB Bo Scarborough (Birmingham Stallions)
TE Thaddeus Moss (Birmingham Stallions)
NO @ BIRM
I really like New Orleans and I think this team is going to compete for the championship but they aren't there yet. I think Birmingham handles them this week and I've gotten very close to wanting to play the Stallions even though the line is -6.5 and I've made it well known I don't like laying that type of line in the USFL. However, this Birmingham pass rush is relentless. They are going to eat the middle of this Breakers offensive line alive. I really like under 49.5 points but unders are boring and I'm playing this league for fun. I'll be parlaying the Stallions ML specifically with the Stars ML and a little bit more beyond that.
MEM @ HOU
I think this is going to be my favorite game to watch this weekend. I think Memphis can pull off the win. In reality, Houston has looked solid this year through the first two weeks. But Memphis looked solid against the Stars in Week 1, almost pulling off the upset. In Week 2 they got absolutely DEMOLISHED by the Stallions, 42-2. White has been the definition of "okay" at QB for the Showboats but I just think they've had a hard start to their season. The Houston defense isn't anything special so they should find some success. Even though I think Memphis can win, I'm not betting on it. The angle I'm going with is the over. Given that I think Memphis can win, I think Houston scores in the same breath. Kenji Bahar of the Gamblers is just that, a Gambler. He takes chances and last week it hurt him, as he threw for three picks to go along with his three scores. That sort of volatility leads to points most of the time, just not always for his own team. Sign me up for the over for a max bet.
PIT @ PHI
Man, the Maulers are an absolute mess. I had high hopes for this team but they have absolutely shit the bed to start the year. They have one of the best WR groups in the USFL so honestly, this team could go off at any time if they were to get their QB situation right. The Philadelphia Stars defense isn't anything great but the Maulers haven't scored a single offensive score this year. Do they get one Week 3? Probably. But I think the Stars get quite a few. The Stars offense was shut down by the Panthers in Week 2 but the Stars are relentless and Case Cookus will bounce back. I'm parlaying the Stars ML with the Stallions and I'm looking to build ladders on top of that by stacking parlays. One thing to note is that I will be watching this game to see how the Maulers offense is moving. If I feel they get into a rhythm early, I'll be hitting the over so keep an eye out for that.
NJ @ MICH
New Jersey doesn't look like the same team this year that they did last year. Once you peel back the roster, it is pretty understandable. They don't have Luis Perez to bring stability under center and they don't have 2022 USFL MVP, KeVontae Turpin, on the team anymore. Turpin went on to be a Pro Bowler for the Dallas Cowboys and the Generals won't be able to replace that talent. That has really made the offense one dimensional and that's fine, they are a really good running team, but it's going to hurt them in the long run. That long run includes a matchup against the significantly improved Michigan Panthers. Jeff Fisher somewhat coached this team into the ground in 2022 but this year they have some stability in Mike Nolan. They have played exceptional on defense, even holding the Stars to 10 points last week. Their offense is explosive as they've trounced both the Houston Gamblers (29-13) and the Philadelphia Stars (24-10) rather handedly. I'm using Michigan's ML in parlays and I'll be actually laying the line here. 
USFL DFS Plays (NOTE * = Top Play)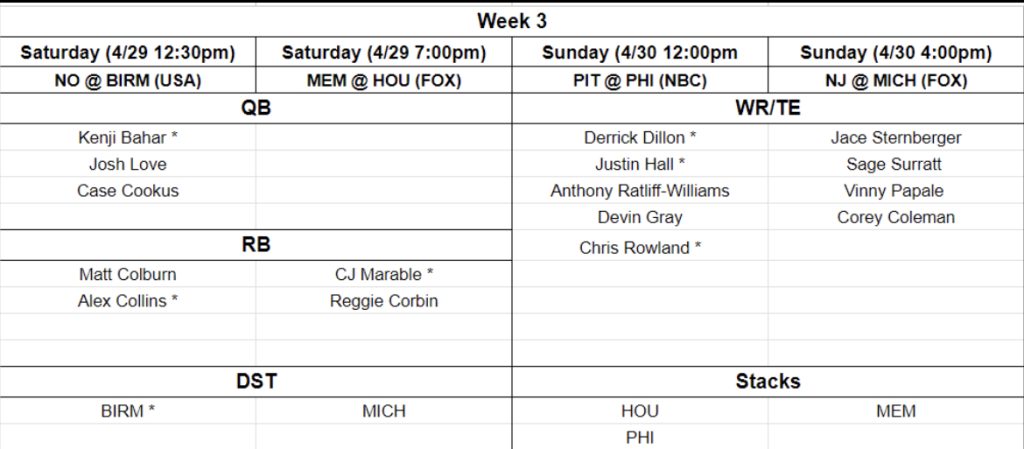 Official USFL Plays
MEM/HOU o42.5 (-110): 2u
BIRM ML, MICH ML Parlay (+110): 3u
BIRM ML, PHI ML Parlay (-102): 2u
PHI ML, MICH ML Parlay (+120): 2u
BIRM ML, PHI ML, MICH ML Paryal (+197): 2u
BIRM ML, MEM/HOU o42.5, PHI ML, MICH ML Parlay (+467): 1u
BIRM ML, MEM/HOU o42.5, PHI ML, MICH ML, SEA/DC o48.5 (XFL) Parlay (+961): 1u
Game times
Saturday (12:30pm) NO @ BIRM on USA
Saturday (7:00pm) MEM @ HOU on FOX
Sunday (12:00pm) PIT @ PHI on NBC
Sunday (4:00pm) NJ @ MICH on FOX
Official XFL Plays
SEA/DC o48.5 (-110): 3u
Game times
Saturday (7:00pm) ARL @ HOU on ESPN
Sunday (3:00pm) SEA @ DC on ESPN
XFL
ARL @ HOU
We have futures for three of the four playoff teams. We are guaranteed either Houston or Arlington in the championship so I'm going to just hedge a little bit with Arlington since they are +220 and we have 1u to win 7.5u on Houston and only .5u to win 2.5 on Arlington. I think Houston wins but this hedge just closes the gap. Best case scenario this weekend is we ride into the Championship game with Houston facing off against DC. Also, I want rooting interest in Houston so I want them more juiced. ***NOTE*** This is purely a hedge from pre-season championship bets. Do NOT bet Arlington ML unless you have the pre-season bets.
SEA @ DC
I like the over here. We are rooting for DC to get to the championship but I think there will be a ton of points scored. I'm laying three units over 48.5.